---
About Ron Faiola
Ron Faiola got his start in the food service industry as a teenager, working at various fast food restaurants, then paid his way through film school at the University of Wisconsin, Milwaukee by making sub sandwiches and pizza. Faiola currently resides in the historic
Village of Greendale
.
More information about Faiola's creative and business endeavors are listed below.
---
Wisconsin Supper Clubs: Another Round
Released in May 2016
Wisconsin Supper Clubs: Another Round, a sequel to author/photographer Ron Faiola's wildly popular first book on the topic, Wisconsin Supper Clubs: An Old Fashioned Experience, gives readers a peek inside 50 additional clubs from across the Badger State.
Through Faiola's work on the Wisconsin Supper Clubs books and documentary, Faiola has earned the reputation as Wisconsin's original and preeminent supper club scholar.
Traveling from the Northwoods to Beloit, Faiola documents some of the most exceptional and long-lived restaurants that embrace the decades-old supper club tradition. These are family-owned establishments that believe in old-fashioned hospitality, slow-paced dining, and good scratch cooking.
Wisconsin Supper Clubs: Another Round is a new, intimate look at this unique American tradition, one that invites supper club enthusiasts and newcomers alike to enjoy a second helping of everything that made Wisconsin Supper Clubs such a hit.
Available at local independent bookstores, Barnes & Noble, Book World, Costco and online at Amazon.com
Updates and comments on both books and supper club related news are available on Facebook at Wisconsin Supper Clubs Movie page. Accept no substitutes!
For more information, visit the Wisconsin Supper Clubs - Book & Movie Website.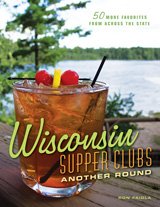 ---
Tilt-A-Whirls, Cowbells and Beer
Released July 27, 2015
Milwaukee Director Ron Faiola (Wisconsin Supper Clubs, Fish Fry Night Milwaukee) shows you the world of Milwaukee area church festivals. The documentary features the rides, culture, music, food, drinks and fun at local parishes. Join the festivities at Divine Mercy, St. Matthias, St. Roman and the 55th and final festival at St. Veronica. Music by Milwaukee polka legend Jeff Winard.
A trailer, press links and DVDs are available at ChurchFestivalMovie.com
---
WISCONSIN SUPPER CLUBS
AN OLD FASHIONED EXPERIENCE by Ron Faiola
A documentary
and
book!
The 224 page book is filled with photos and stories of 50 Wisconsin supper clubs. Released April 16, 2013 by Agate Publishing on their Midway imprint. The book is available at local bookstores, Barnes & Noble, Costco and Amazon. The book was ranked as a #1 Bestseller for Midwest Travel Books on Amazon.com.
Wisconsin Supper Clubs - Movie and Book Website
The film of the same name was produced and directed by Ron Faiola, and the documentary, featuring 14 Wisconsin supper clubs premiered on April 17, 2011. The film is licensed to PBS nationwide and is also available on DVD with bonus footage at SupperClubMovie.com or Amazon.com
Updates and comments on both the book and movie are available on Facebook at the page Wisconsin Supper Clubs Movie
---
FISH FRY NIGHT MILWAUKEE
Produced and directed by Ron Faiola, this film premiered at the Times Cinema on October 11, 2009 and since then it has been broadcast on Milwaukee Public Television (MPTV) and Wisconsin Public Television (WPT).
For more information go to FishFryNight.com
Or follow Fish Fry Night Milwaukee on Facebook
---
Experience
BUSINESS/CREATIVE
Push Button Gadget Inc. Ron Faiola's Video Production Empire Since 1993.
Ron Faiola Produced the Sold Out Lest We Forget Concert at Turner Hall, reuniting many bands including Milwaukee punk veterans Die Kreuzen.
Ron Faiola's listing on the Internet Movie Database (IMDb.com)
---
MILWAUKEE MUSIC HISTORY
Former drummer and co-founder of Couch Flambeau (Couch Potatoes), drummer and manager of F/i (1988-1993), and a DJ for more than 10 years at WMSE 91.7 FM.
Milwaukee Rock Posters.com Faiola's collection (and donations by others) of Milwaukee music history in posters, photos, video, music and memories. Be sure to check out the 50 plus hours of Wisconsin music, divided up into nice hour long podcasts.
---